PRYME THYME
ON-LINE
Spring 2000
Greetings:
Spring has sprung around here. The daffodils are blooming, hyacinth are popping up, the crocus are magnificent, and the forsythia is bringing the promise of a beautiful summer.
This issue of Pryme Thyme On-Line you will find several interesting articles.
Take a look at the spring blooming shrub - the forsythia at:
https://members.tripod.com/starspirit/forsythia.htm
Want to know how to color Easter Eggs naturally? Go to:
https://members.tripod.com/starspirit/eggs.htm
Learn all about the herb Anise at:
https://members.tripod.com/starspirit/anise.htm
Go to
https://members.tripod.com/starspirit/springsummer.html
to learn all about planting a spring garden that will move easily into a summer garden. This doesn't have anything to do with herbs, but I thought you might enjoy it.
Pryme Thyme is happy to announce it's association with egroups. Join and get notification when Pryme Thyme changes to a new issue - you must become a member. Becoming a member is very easy. Go to
http://www.egroups.com/group/HERBS-PrymeThyme
and fill out the form. Go ahead and join. You will be notified when new issues are put up. If you have problems email me at
musik1@earthlink.net
. If you have any comments, questions, or have any ideas on what you would like to see in Pryme Thyme, e-mail me.
If you would like to see more of my articles some of which have been on PrymeThyme before, go to
http://www.themestream.com
Go to Topics in Home and Garden, then in the Gardening Section go to Alternate. There are two articles there by me. One is Uses of Lavender and the other is The Wisdom of Sage. Please rate these articles as I do get a little compensation for them. I would really appreciate it. You don't get rich being a freelance writer.
Please don't forget my book, The Green Guide to Herb Gardening, which is available at your local bookstore or at Amazon or Barnes&Noble. (Please leave a review if you have read the book). You can also order it direct from my publisher at
http://www.llewellyn.com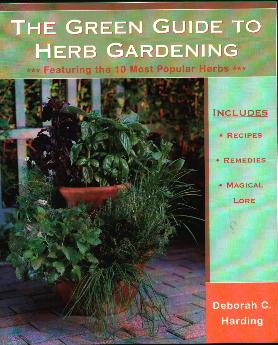 Graphics are by "A Touch of Country" found at
http://www.geocities/com/Heartland/Hills/7060