FORSYTHIA
One knows that spring has sprung when the forsythia begins to bloom. It is a sure sign that winter is over when the masses of yellow blossoms appear from the ground to the tip of each branch.
Forsythia is a deciduous shrub that grows about 1 to 2 feet per year. There are several different varieties that include compact shrubs of about 1 foot tall to those that reach 10 feet in height.
Forsythia makes excellent hedges and the taller types can be espaliered against a wall or fence.
New shrubs can be started in late spring or early summer from softwood cuttings. Another method of propagation is the layering method. This is done by pinning the tip of a branch to the ground. It will root and can then be removed from the mother plant and planted elsewhere.
Forsythia isn't fussy about growing conditions. It will grow in any type soil and prefers full sun but will be happy in shade too. The only requirement is that the soil be well-drained.
Pruning should be done after the flowers have finished. Flower buds for on previous season's growth, not on new growth. At lease 1/4 of the oldest stems should be trimmed to within 4" of the ground. Forsythia tends to stop blooming if neglected. If this should happen, cut the entire plant to the ground. It will take a few years before it will bloom again, but be patient, it will come back.
Varieties
Hybrids from Forsythia europaea and Forsythia ovata are both large and the most cold hardy. Cultivars include 'Northern Sun', 'Meadowlark', and 'Northern Gold'.
'Vermont Sun' is a cultivar of Forsythia mandshurica and it blooms slightly earlier than others. It has a more upright habit and the flowers are slightly larger. It is also cold tolerant.
Other forsythia cultivars are 'Beatrix Fariand' with large flowers about 2" in diameter, 'densiflora' with pale yellow flowers, 'Karl Sax' whose flower buds are very hardy, 'Lynnwood Gold' with large numerous flowers, 'nana' a dwarf that doesn't flower very well, 'primulina' with light primorse-like yellow flowers, 'spectabiles' which is very winter hardy, and 'Spring Glory' with numerous primrose-like flowers.
All the above are good for borders and hedges because of their upright nature. They types below are weeping forsythia. Branches grow in a fountain-like manner, the tips reaching back toward the ground. Cultivars of Forsythia supensa are: 'atrocaulis' whose young growth have a purple color to contrast the yellow flowers, 'decpiens' whose flowers have long stalks, 'pallida' with pale yellow flowers, 'sieboldi' with numerous deep yellow flowers and long slender branches.
Celebrate the coming of Spring with the sunny shining yellow of a forsythia bush. It will warm the heart and soul with the coming summer sun.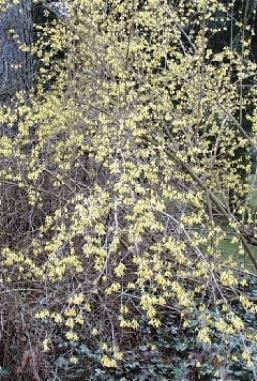 Background by:

at: http://www.geocities/com/Heartland/Hill/7060
go back home